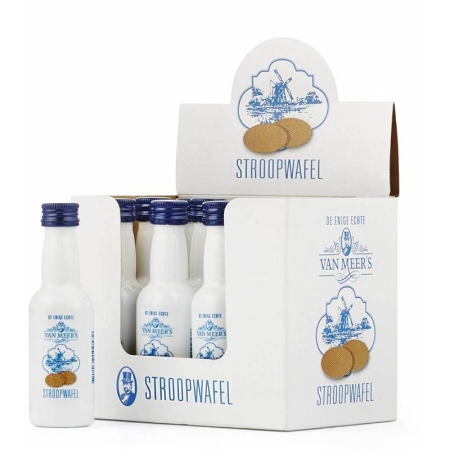 Stroopwafel liqueur 50 ml tray
(12 bottles)
The one and only stroopwafel liqueur from Van Meers according to the authentic Dutch stroopwafel recipe, available in several variants, this is the small edition. Particularly handy format to experience the stroopwafel liqueur and to give it away as a gift.
The corresponding size of the bottles are 50 mL each, in this sturdy box you will find 12 bottles. The size of the bottles is also known as a shot, curious about a stroopwafel shot? Also delicious to use in coffee, tea or with a dessert such as ice cream, custard or yogurt.
The corresponding alcohol percentage is 14.7%, the stroopwafel liqueur is gluten-free.
In the fall or summer, this drink is ideal with ice cubes, see it as an ice cream (stroopwafel) liqueur. These bottles can be sent by post within the Netherlands but also to the entire (stroopwafel) world. This is due to the light weight of the bottles and the sturdy trays in which the bottles are wrapped.
Would you prefer a larger-sized stroopwafel liqueur from Van Meers? Then view this page.
Cheers!